LPG for home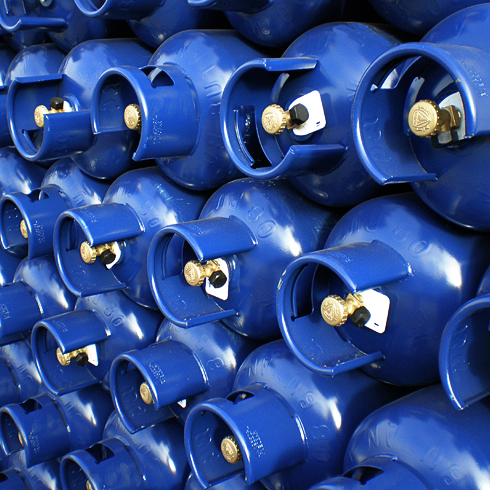 ButanGas LPG cylinders are made of high-quality steel. They are safe, easy to handle, and easy to transport. They are tested and filled in our high-tech plants, in compliance with the regulations and the highest environmental safety standards.
The cylinders are filled with liquid-state LPG. At the end of this process, the cylinder is weighed and subjected, first, to a further quality check to verify the presence of any leaks, then to a quantity check to verify the filling compliance with current regulations.
In fact, each cylinder is equipped with a seal cap which certifies the verification, control and approval for sale by the ButanGas plants. In addition, there is an adhesive label on each cylinder, which is replaced during the testing phase.
All cylinders are tested every 10 years, verified by an authorized third-party certifying body that certifies that the test has taken place by punching on the ring nut.
After use, the customer must return the cylinder to the authorized dealer from which he purchased it. Only by doing so it is possible to carry out the necessary safety checks and allow for a new and correct refilling.
We would like to remind you that the current legislation (Italian Legislative Decree no. 128 of 22/02/2006 updated by the 2019 Italian Budget Law) provides for administrative and criminal sanctions if the cylinders are filled unlawfully.
ButanGas cylinders are available in different sizes to meet your every need:
| QUANTITY OF LPG CONTAINED [kg] | TARE [kg] | TOTAL WEIGHT [kg] | DIMENSIONS DxH [mm] |
| --- | --- | --- | --- |
| 10 | 11/13 | 21/23 | 270×589 |
| 13 | 15/17 | 28/30 | 300×639 |
| 15 | 15/17 | 30/32 | 315×654 |
| 20 | 21/24 | 41/44 | 315×807 |
Cylinders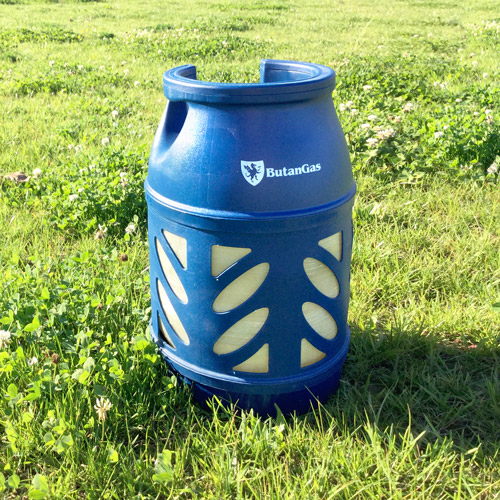 The new cylinder made of composite materials lets you check the level of gas contained inside the container thanks to a special translucent material. You can check the amount of gas available at any time.
Handiness, weight and small dimensions make it particularly suitable for transport and use in camping, in the nautical sector and in all mobile catering activities (e.g. food trucks).
| QUANTITY OF LPG CONTAINED [Kg] | TARE [Kg] | TOTAL WEIGHT [Kg] | DIMENSIONS D X H [mm] |
| --- | --- | --- | --- |
| 7,5 | 4 | 11,5 | 305×468 |